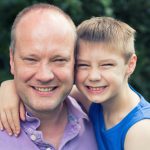 Spotlight on the Skillicorn family
16 August 2016
- 0 comments
We recently caught up with the Skillicorn family to find out how Thomas (age 7) has been doing in our Little Stars drama, dance and singing classes in Croydon
Thomas has been coming to Spotlights for 18 months now.  We wanted to know what attracted his dad, Paul, to Spotlights in the first place:
"I wanted Thomas to try a wide range of extra curricula activities.  Spotlights appealed because he got the opportunity to try something different and fun in a friendly, non-pressurised environment.  The performing arts class on Saturday's was recommended to me by friends".
We love the fact that we get lots of friends of current parents bringing their children to a free trial class.  Having been recommended himself, Paul now tells his friends that the class is, "a fun introduction to acting, singing and dancing in a friendly environment – I would recommend any interested parent takes their child for a trial.  The trial is free so you have nothing to lose by testing out the class".
It is always interesting to hear what children themselves say to their parents about our classes.  Thomas, "really enjoys talking about the end-of-term show and what role he's going to play".
When we plan our lessons in drama, dance and singing we use our unique STAR System.  The "S" in our STAR System stands for "self-confidence" and we make sure that every child is given opportunities to build their confidence in each discipline.
It's great to hear that Thomas has benefited from this, "Thomas is definitely much more confident being on stage and loves being dramatic at home.  Before Spotlights, Thomas was very shy about performing on stage, and quite tearful at the prospect of school Christmas shows. He's now much happier being on stage in front of an audience. He now looks forward to the opportunity to dress up in costume and act out the part".
The "T" in our STAR System is for "teamwork".  "It is very noticeable that Thomas now enjoys being on stage with others.  He also enjoys helping the younger children with their lines".
Each Little Stars class includes dance.  The "A" in our STAR System stands for "active learning".  This describes how we teach dance by getting all the children actively engaged and learning the steps from a professional teacher in performing arts.  It's brilliant to hear that Thomas' "dancing has improved!  He has enjoyed learning the choreography for the end of term show".
The "R" in our STAR System stands for "realising potential" and our mission is to ensure that every child we work with can realise their potential through our performing arts classes.  Paul's view on this for Thomas is, "we love seeing him really put everything into the end of term show and finish the show with a big smile".
If you would like to find out more about how our drama, dance and singing classes can help your child with self-confidence, teamwork, active learning and realising their potential please get in touch and sign up to our monthly newsletter to find our more.