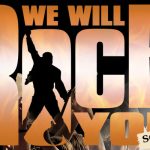 Main School Production- 'We Will Rock You' for 7-18 year Olds
22 November 2019
- 0 comments
Get ready to fist pump! We are excited to announce that our Main school production for April 2020 is 'We Will Rock You'. The worldwide smash hit musical written by Ben Elton featuring songs from the iconic band 'Queen' such as 'Break free, 'Somebody to love', 'Another one bites the dust and of course 'We Will Rock You'. '

'We will Rock You' is set in a post-apocalyptic world where live music has been banned. Everyone wears the same clothes, has the same thoughts and opinions… to be honest everyone's gone a bit radio gaga! The story follows a group of young rebels who are trying to restore justice whilst up against the Killer Queen. Will they succeed in time or will they be needing to break free?
Our Main School is for children aged 7-18 and every child within the production will be assigned a specific part with their own lines of dialogue. Our students will get the chance to develop their performing arts skills learning a number of different dance routines and musical numbers for the show. We have found from past productions that our students really gain confidence from being part of the production, leaning on each other for support. We create a professional theatre production with authentic costumes, scenery, radio microphones and lighting.
If your child would like to be a part of our production of 'We Will Rock You' then why not sign them up for a free trial in January 2020 at one of our venues in Bromley, Beckenham, Orpington or Croydon.