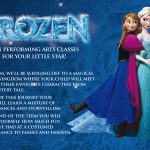 Little Stars Croydon – Frozen Term
16 January 2015
- 0 comments
At our Little Stars class for 4-6 years in Croydon  this term your child will go on a Frozen adventure meeting all their favourite characters from this new classic story along the way.
Each week through fun games, songs and dancing your child will learn new skills and make new friends.
Get in touch now to book a FREE trial class at this venue.