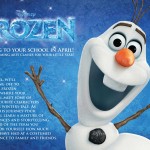 Litte Stars Frozen Term
24 April 2014
- 0 comments
Little Stars classes  (age 4-6) are all about Frozen this term.
Your child will meet some of their favourite characters from this Wintery tale.  As part of the journey your child will learn a mixture of songs, dances and storytelling.  At the end of the term you will see for yourself how much fun they have had at a costumed performance to family and friends.
If your child has not been to Spotlights before, why not book a no obligation FREE trial class at any Little Stars venue.