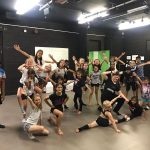 The Greatest Showman Summer Workshop 2018
28 August 2018
- 0 comments
The Greatest Showman Workshop 2018 – Review
The Spotlights summer schools 2018 in West Wickham and Orpington for students aged 7 to 16 were absolutely brilliant!
This summer workshop was open to anyone aged 7 to 16. You might be an experienced performer, or you may be coming to a theatre school for the first time. What's guaranteed is that you'll have fun, learn new skills and make new friends.
At our summer schools this year, we created four productions of 'The Greatest Showman' with over 90 students, in one week!
The excitement and energy that the children brought in every day and their commitment to the projects, made it a wonderful experience for everyone involved. With three specialist teachers running the project; a director, choreographer and a musical director, the children received expert tuition and they worked really hard to learn and perfect the material, in a short space of time.
All of the children were familiar with the material before the first day of rehearsals and they were eager to learn what their version of 'The Greatest Showman' would look like by the end of the week.
After the auditions on day one, the parts were allocated and the hard work really begun in rehearsals. By the end of day three, the scenes were blocked, the dances were set and the songs had been staged. Day four is when it all comes together. It's a little bit completing a huge jigsaw puzzle and it's so exciting when all of the pieces start to fit together. It's a very satisfying feeling.
Day five is show day!
After the rehearsals and run throughs in the morning, it's time to get into costume and for the audience to arrive. The atmosphere backstage was full of fun and excitement. As ever, the children performed brilliantly and the Spotlights teachers were so proud of their achievements.
We are so looking forward to seeing many of our summer school graduates at our classes this September 2018.
If you'd like your child to try a performing arts activity this September please get in touch and ask about the next date for a FREE trial class.