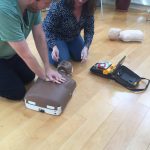 First Aid Training Refresher
17 August 2017
- 0 comments
The Spotlights team recently attended refresher First Aid training with the crew at FirstAid4Staff
The course was designed specifically for Spotlights to include the best way to deal with First Aid issues for children and teens.  The topics covered included dealing with accidents, monitoring the situation and the correct order of steps to follow when administering first aid.  There was also a section on dealing with choking, allergies, and epi pen usage.
The Spotlights team would like to thank Sam at FirstAid4Staff for delivering a serious topic in a fun way and dealing with all our queries.
Of course, we all hope that we won't have to deal with these scenarios but all the Spotlights team now feel more confident about what to do if first aid is required.
At Spotlights, we aim to provide a safe and caring environment for all children to learn new skills in drama, dance and singing.
If you would like your child to try one of our classes we offer a free no obligation trial.  Please get in touch to book.