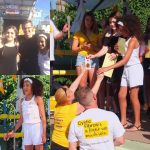 Bromley's Got Talent 2017
13 July 2017
- 0 comments
Spotlights students win Bromley's Got Talent
Last weekend two of our talented students won the teens category in Bromley's Got Talent in aid of Cystic Fibrosis.
Our students Shaye Lei and Charlotte both sang solo and impressed the team of celebrity judges winning their teen category.
Faye, Co-Director of Spotlights said, "It was an honour for Spotlights to be invited to take part in this event and it is a testament to all the hard work and talent of our students that they have won first place in the teen category."
The event took place at The Chatterton Arms, Bromley on a very sunny Saturday afternoon.  Performing outside in this environment was both exciting and challenging for all the participants.
Charlotte said, "this was a great experience, I didn't expect to win as the standard was so high but I am delighted that I have.  The feedback from the judges was great and I will take this on-board for my next performance".
Shaye Lei said, "it was amazing!  I really enjoyed the whole thing.  I am so happy that I won."
All of the celebrity judges gave constructive feedback to all contestants.  Harry Reid (who plays Ben Mitchell in Eastenders) told us, "Spotlights Theatre School is producing such talent – it's wonderful".
Jamie Foreman (Layer Cake, Eastenders, Sleepy Hollow) said, "I would be very surprised if I don't see Shaye-Lei and Charlotte in the West End very soon".
We are very proud of all our students that took part in this event and its lovely that two of them won their category.  A massive thank you to the organisers for hosting this and making it a great day out for local families.
If you have a talented child who would benefit from professional performing arts training please get in touch with us for a FREE trial class in September 2017.
We also have a couple of places at our summer workshops which are an intensive and fun week creating a mini musical to perform to family and friends.