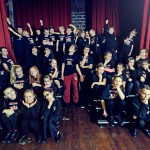 Autumn Term 2018 for 7-16 year olds
8 September 2018
- 2 comments
Autumn Term 2018 for 7-16 Year Olds
At Spotlights, we're counting down the days until we go back to school!
We love September at Spotlights. It means that we will welcome back our awesome students to our classes and we will open our doors to any new students where we have space available.  If you would like to book a free trial session for your child, please get in touch.
In the autumn term, the students aged 7-16 (Stars 12&3)work towards a showcase presentation for their families and friends. The material that the students cover in drama, dance and singing, is always a contrast to musical theatre and this term will be no exception to that.
In dance, the students will work on street dance technique and choreography. Street dance is great fun and inclusive. It encompasses all levels of dance ability. Based on the amazing performance skills of dance troupes like Diversity, our dance teachers will be putting the Spotlights students through their paces, to produce some exciting content for the showcase.
In singing, the students will work on several different pop songs. The students will have the opportunity to sing solo, duets and in small groups and they'll be gaining lots of confidence whilst having a great time in class!
The first few weeks of the term in drama will be focused on comedy and then the students will move on to look at scripted scenes, that they will stage and present to an audience later in the term. Each student will have a part to play in their chosen scene and a character they can develop in class.
After the showcase and before the end of the term, we will hold auditions, for our next major production. This musical production will be performed in April 2019.
All our classes are starting back week commencing Monday 10th September.
If you would like to book a free trial for your child aged 7-16 at any of our venues, please contact us and we can arrange this for you.