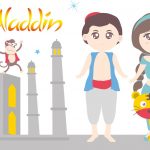 Aladdin for 4-6 year olds
10 January 2019
- 0 comments
Aladdin for 4-6 Year Olds
Every term our pupils age 4-6 at our Little Stars classes take part in a mini musical.
This spring term our Little Stars will be having an Arabian adventure with Aladdin, Princess Jasmine and all their friends.
They will be introduced to the characters in this story by our amazing teachers through fun games and drama techniques.  As the weeks progress all the kids will have the chance to learn funky dance routines and songs from this classic tale.
Every child has a part to play with their own script and lines of dialogue.  We provide kids with a costume that's just right for them and their character.
At the end of the term family and friends are invited to come and watch an awesome show.
If you would like to book a free trial for your own Little Star aged 4-6 at any of our venues, please contact us and we can arrange this for you.