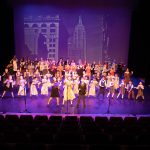 2019 Rewind- Main School
18 December 2019
- 0 comments
We can't believe another year has flown by already! We caught up with some of our teachers who to talk about their favourite moment from this year at Spotlights working with the main school.
Faye, Director of Spotlights
"This autumn term has been so much fun! The showcase presentations in Orpington, Croydon, Beckenham, West Wickham and Bromley were all very successful and enjoyed by our Spotlights student's families and friends. This autumn, we decided to challenge each Star group, by giving them their own musical number to perform. This was a first for us and we're so proud of the student's achievements. The Star 1's performed 'Under the Sea' from the Little Mermaid, Star 2's worked on 'Stick it to the Man' from School of Rock and the Star 3's presented 'Omigod You Guys' from Legally Blonde.
In dance, alongside the choreography that the children learnt for their musical numbers, each Star group worked on a street dance routine. They loved working on and performing their dance pieces. In drama, each Star group presented scenes from a play. The Star 3's worked on 'Teechers' by John Godber, the Star 2's worked on an adaptation of Shakespeare's 'A Midsummer Night's Dream,' and the Star 1's worked on scenes from Mary Norton's 'The Borrowers.' Each group developed in confidence and shined brilliantly on stage.
In singing, each Star group worked on pop songs such as 'Wish You Well' and 'Higher Love.' The harmonies, solos and duets were beautiful. It's such a pleasure to see the students go from strength to strength".
Emily, Little Stars and Dance Teacher
"The Main school show is definitely one of my favourite parts of the year. The children never fail to amaze me with their hard work, dedication and energy that they all bring to show term! Working on 'Annie' was so much fun and one of the most rewarding parts is watching the children as they grow in confidence into their individual roles and watching as the show starts coming together for the first time. By far the best memory of Annie for me was standing in the wings watching the culmination of all those weeks of hard work and feeling proud of every single child who took part – and of course there is nothing that beats the atmosphere created by the nerves and excitement of everyone backstage!".
Lauren, Singing Teacher
"I am so proud of the progress the children have made this year. As a new teacher at Spotlights I was so overwhelmed by how welcoming the children were and how quickly they adapted to my methods of teaching. This term in particular the children have tackled very difficult songs including; "Stick it to the Man" (School of Rock), "Wish You Well" (Sigala and Becky Hill), etc. They approached these challenging songs in a very professional manner. In doing so they have learnt many exercises to build the strength of their belt and have found other useful vocal qualities. I look forward to working with the children on another style of singing in the new year as we work towards 'We will Rock You'."
If you would like to book a Free Trial for January 2020 click here.