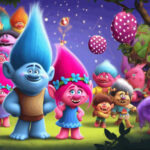 Trolls-Inspired Performing Arts Classes: A Magical Journey for Kids Ages 4-7
18 November 2023
- 0 comments
Calling all 4 to 7 year olds in South East London for a magical performing arts journey inspired by the beloved Trolls movies.
Designed for kids aged 4 to 7, these performing arts classes promise an immersive experience that combines drama, dance, and singing, culminating in a magical costumed show at the end of the term.
Unlocking Creativity through Drama
The foundation of these classes lies in the magic of drama. Children are encouraged to explore their imaginations, express their emotions, and develop crucial social skills through various theatrical activities. From improvisation games to short scripted scenes inspired by the vibrant characters in the Trolls movies, the drama component of the classes fosters creativity and confidence in every child.
Dancing to the Rhythm of Joy
Dance is not just a physical activity; it's a form of self-expression. In these classes, kids will groove to the upbeat tunes from the Trolls soundtrack, learning basic dance steps while embracing the joy of movement. The dance sessions are designed to enhance coordination, flexibility, and rhythm, ensuring that each child discovers the sheer delight of expressing themselves through the art of dance.
Harmonising Voices in Song
Singing is a powerful tool for building confidence and nurturing a love for music. Inspired by the catchy and heartwarming songs from the Trolls movies, the singing component of the classes encourages children to explore their vocal abilities in a supportive and fun environment. Whether it's a solo performance or a group song, every child gets the chance to shine and develop a lifelong appreciation for the magic of music.
The Grand Finale: A Costumed Show
The culmination of these Trolls-inspired performing arts classes is nothing short of spectacular—an enchanting costumed show that brings together all the elements learned throughout the term. Parents, family, and friends are invited to witness the magic as their little stars take the stage, dressed as their favorite Trolls characters, and showcase their newfound talents in drama, dance, and singing. It's a heartwarming celebration of creativity, teamwork, and the joy of performance.
Benefits Beyond the Stage
While the spotlight shines brightly on the stage, the benefits of these performing arts classes extend far beyond. Children develop essential life skills such as teamwork, communication, and problem-solving, all while having a blast in a supportive and nurturing environment. The classes also provide a platform for self-discovery, allowing each child to explore their unique talents and build a strong foundation for future learning and creative endeavours.
FREE Trial Class for New Faces
All new faces are welcome to a book a FREE trial class.
It's time to ignite the spark of creativity in your little ones! Give your child the gift of imagination, confidence, and joy with a free trial class at Spotlights Theatre School. Our engaging and supportive environment is designed to provide a unique opportunity to explore the enchanting world of performing arts. Watch as your child discovers the magic of drama, dance, and singing, all while building essential life skills in a fun and nurturing setting. Don't miss out on this chance to witness their potential shine in a risk-free and exciting trial class. Book now, and let the journey to self-expression and creativity begin at Spotlights Theatre School!
Black Friday Competition – Win A Free Term
All trial classes booked between Friday 17th November and Thursday 30th November 2023 will be automatically entered into our Black Friday competition to win a term of free classes at Spotlights Theatre School.