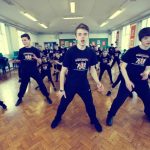 Summertime classes for 7-16 year olds
Summertime classes for 7-16 Year Olds
It's summertime at Spotlights.  That means for our students in Stars 1,2&3 (age 7-16) it's time to try out new skills and techniques in drama, dance and singing.  There is no pressure of a show this summer term so it's time to get creative with our class content.
We are now working on the absolute freshest material from artists such as Rag'n'Bone Man and Calvin Harris in singing; Zookeper in dance and movie scripts from Hollywood blockbusters in drama.
We change up the content every few weeks in each class to keep everyone excited about the next mini project.
This term is a great opportunity for our students and teachers to try out new techniques.  Some examples include a "hot seating" technique in drama.  This allows every child the opportunity to develop a character from a script.  The character is brought alive away from the dialogue that is set in the script.  Each student can make the character their own and this develops their confidence in performance.
In singing, we are focusing on solos and duets and some beautiful harmonies in class groups.  We have even found that without the pressure of performing to an outside audience some of the shyer singers are happy to try solo singing.  We will encourage those individuals and maybe they will sing a solo in their next show to family and friends.
In dance, the students are learning how to dance as an ensemble which requires teamwork.  Individually each student is being encouraged to perfect their own street dance technique.  Our professional choreographer is putting together some dances with a street attitude.  We are looking forward to developing these techniques further ready for our next showcase at the end of the year.
If you would like to find out more about our classes are how we help students realise their potential please get in touch.