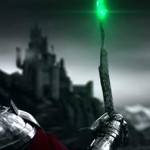 Congratulations to Lailah in BBC Film
6 January 2015
- 0 comments
Congratulations to Lailah for her role in a new BBC film "Guin and the Dragon".
Lailah has been a student with us at Bromley from day 1 and it's fantastic that her natural talent and training with Spotlights Theatre School has lead to a role in this film.
The film follows the story of a group of kids on a quest to rescue their friend Arthur from the sinister Dragon Lady.
Lailah plays the role of Danielle.
You can watch the film on BBC iplayer (available for the next 30 days at the time of this post) by following this link http://www.bbc.co.uk/iplayer/episode/b04xnvmj/guin-and-the-dragon