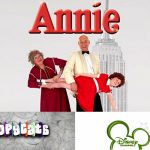 Annie
4 October 2010
- 0 comments
Annie
We are currently working with Chris Moreno and Playhouse Productions with their professional production of Annie which is on a national tour. All the orphans in the Bromley version of the show are from Spotlights. Our students will be working with Su Pollard of Hi-De-Hi fame and a professional cast.
Copy Cats
More families will soon be appearing on Children's BBC show Copycats.
Disney Channel
Well done to all students who took part in the casting for Fashion Wizards during the summer.