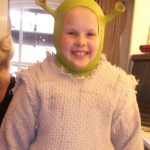 Our agency continues to flourish
Shrek
Congratulations to Grace who is making her West End debut playing young Shrek at Theatre Royal, Drury Lane. This pic shows Grace being fitted for her Shrek suit!
Oliver!
Congratulations to Josh (playing Oliver), Abbea (playing Bett), George (playing Charlie Bates) and Megan, Mae, Niamh (Fagin's Gang). After an intense round of auditions they have all been awarded roles the Bromley Little Theatre production of Oliver! This show will be on in December.
Film festival
Congratulations to Beatrice (Little Star) who has just completed her first film role in "The House and Everything" which was co-written and directed by Pip Pickering and will be screened at various film festivals including Sundance.