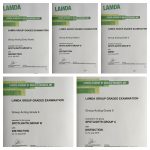 How LAMDA exams have helped our students
9 August 2016
- 0 comments
We've just received our most recent LAMDA group acting exam results and I'm delighted that yet again the students have achieved a fantastic set of results. They've been awarded 4 Distinctions and a High Merit grade at Entry Level, Grade 2, Grade 5 and Grade 6.
These results are outstanding!
I know that some of you will not have heard about the London Academy of Music and Dramatic Art (LAMDA) and drama exams so I have been reflecting on why our students are consistently getting such high grades and what I think the benefits are in taking part in this process.
LAMDA is one of the UK's oldest and most respected performing arts organisations. They have been offering practical examinations in communication and performance subjects for over 130 years.
LAMDA offers full time programmes and graduates include A-List celebrities such as Benedict Cumberbatch, Kim Cattrall and Jude Law.
Our performing arts students that really stand out in their weekly drama classes are invited to attend group acting classes which are then assessed by an examiner from LAMDA.
The LAMDA examiner writes a detailed report that the group can then learn from and further develop their drama and performing arts skills.
The students perform scenes from a wide variety of plays.  This material and the LAMDA drama training provides students with the opportunity to play characters that are a different age to themselves, from different backgrounds, cultures and periods of history.  The texts require the students to develop their emotional intelligence and understanding of the world.
There are some very obvious benefits to drama training such as improved self-confidence and the ability to speak confidently in front of a group. These are skills that the students can use in all areas of their lives as they mature and go out into the world.
The process of working towards the LAMDA group acting exam also requires each student to be focused and concentrate in each weekly session. They learn to be self-disciplined, as they have a limited time to learn and prepare their material, so that it is performance ready for the exam.
They learn to accept feedback in each weekly session as the play develops. The students have to work as a team and they are examined as a group, so each individual student's contribution is vital and impacts on the exam results. They learn to co-operate with each other and use their creativity to shape and develop their characters.
I can't wait to get started on the next level of exam courses in September and I look forward to more exciting results.
If you would like any further information about our group acting training and LAMDA exams please get in touch or subscribe to our monthly email mailing list for all our latest news.