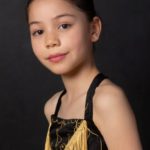 Congratulations to our Student Lauren!
25 February 2020
- 0 comments
A huge congratulations to our student Lauren who has been offered three separate Drama Scholarships at Bromley High, Colfe's School and St Dunstan's college.
Lauren has been attending Spotlights since she was five years old showing a real passion for the performing arts at such a young age. Lauren has always been a dedicated student at Spotlights, and we have no doubt she will thrive in her next venture. As well as attending Spotlights Lauren also attends LAMDA classes and has done so for the past three years. These classes have helped Lauren develop her self-confidence and performance skills.
In preparation for her Drama Scholarship Exam Lauren put in lots of hard-work. She chose to challenge herself with a monologue from 'Shakespeare's 'A Midsummer Night's Dream', which she excelled in. Lauren now has the choice of which Independent School she would like to attend. We are extremely proud of Lauren's incredible achievement.
If you would like to find out more about our classes and how we help students realise their potential please get in touch.